With each year we homeschool, I feel like I'm getting more of a grasp on how to handle things.
We are continuing with My Father's World for both Big Brother and Big Sis. We will be using Math U See again as well. I chose not to use Apologia this year. We really enjoyed the Swimming Creatures of the Fifth Day last year, but I think that we are going to have a pretty full year with My Father's World and didn't want to add any extras.
Ok… First up is Big Brother

We are starting the Multi- Age Family Cycle from My Father's World this year. Big Sis and Little Sis will be able to join in some of our activities. This package includes our Bible, history, read alouds, science and art. I am super excited about reading the missionary biographies. I am also super excited about getting our friends who have lived in other countries to write letters and share first hand accounts with the kids (oh.. by the way… I might be contacting you soon 😉 ).
We are going to be joining together with some other families in the area who are also doing Exploring Countries and Cultures this year to do a co-op, meeting once a week. I wasn't sure if we were going to be able to do this curriculum this year… with our finances being tight as usual, but a dear, dear friend who did this curriculum last year, sent me all of her stuff… all I had to buy were a couple of books and the student sheets. Praise the Lord!
For spelling, we will be using the third grade spelling bee list provided by our local homeschool association. I shared in THIS post how I will be trying to make spelling more fun.
Math U See worked well for us last year. Big Sis will be ready to start Alpha in a couple of months and Big Brother is starting Beta, but I have a feeling that he will be going through it pretty quickly.. so we have Gamma waiting in the wings.
Ok… for Big Sis, we are using: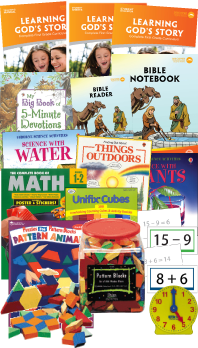 We did this curriculum with Big Brother a couple of years ago, so all we had to order was the student sheets.
We are also going to be working on reading, using Bob Books… right now we're almost done with set 1… then it's onto set 2! I've used several different beginning readers, but I think these are my favorite.
For Little Sis, I have put together some Busy Bags, similar to THESE I found on Pinterest. She also has a school box with crayons, pencils and a journal… just like the big kids. I have LOTS of File Folder Games that I can pull out for her as well.
We will continue to use our journaling system that I explained in THIS POST. For Big Brother, I have and will continue to use these writing prompts that I found on… you guessed it… Pinterest!
Last year I had hoped to introduce music into our homeschooling, but with a baby coming mid- school year, it just didn't happen. I am hoping to teach piano to Big Brother this year. If you know of any FREE online resources, please share!
In order to keep all this organized, I searched until I found a lesson plan template that I liked. I am using the Weekly and Monthly Planners as well as the attendance found HERE.
I have sections in my notebook for the whole family's monthly calendar, Big Brother's weekly lessons, Big Sis's weekly lessons, our year long range plans and attendance record, and information pertaining to our co op.
Do you like the cover? Feel free to print one our for yourself. Click here –> HomeSchool Planner Cover
It will be upside down when you click on it, but I promise it will all turn out alright when you print!
Hmmm… what else? Oh yes, we're going to be trying to workbox system this year for a change, but more on that later.
Well.. I think that's about it. I am excited for this upcoming year and judging by the kids excitement this morning, it should be a really good year!
Linking Up with:

and
Our Homeschool Curriculum 2012- 2013