I am really excited to share with you a little gem I recently came across. SchoolhouseTeachers.com is the curriculum side of The Old Schoolhouse Magazine. I'm also really excited to have joined 2015 Schoolhouse Review Crew. For my first review, I've been given a chance to dive in with a SchoolhouseTeachers.com Yearly Membership. This is a curriculum site for homeschoolers and by homeschoolers. This very user friendly site has courses suitable for all ages (toddlers through adults). Seriously… the variety of courses offered is fantastic. Over 100 courses are offered and more are being added all the time.
SchoolhouseTeachers.com does not cater to one school of thought or curriculum. I think anyone from Classical Educators to Unschoolers (or Delight Directed Learning as I like to call it) can benefit from all they have to offer. Course lengths vary from daily to year long. Another great thing about it is that you can work at your own pace. The courses are on the site and available for you to access at any time.
SchoolhouseTeachers.com offers everything from traditional academics like reading, writing and arithmetic to electives that we (well, I) tend to overlook in the life of our homeschool. I love that it is not all about sitting in front of the computer for learning. You can take advantage of printables, videos, well planned activities that involve working together in and out of the house. At this point, I have been using SchoolhouseTeachers.com as a reference. I peruse the classes often getting ideas and planning for the upcoming semester. I have not bought a curriculum to use with the kids this year. I feel like I have the freedom to build my own custom package using elements from SchoolhouseTeachers.
I have been searching high and low for a solid music theory curriculum as both of my olders are getting more interested in playing instruments. I was thrilled to find that SchoolhouseTeachers had one for me. It has 32 weekly lessons. The very first lesson is titled "Music is Everywhere." The kids go outside and listen to the sounds around them! I love that the course is so interactive! My kids, who are 7 and 9, will start this in January when we start back to school.
One course that falls under the elective category that I am particularly excited about is the Tinkers Club. I think that my 9 year old son is going to love tinkering around. I am not very handy. I can help my son take things apart… but that's where it ends for me. The Tinkers Club has several lessons involving the taking apart and reconstructing of things like clocks and such.
We've been doing a Christmas Around the World study this month. One day was about the history of the Christmas Tree. I wasn't fully excited about the limited information given in the packet we were using. I remembered that I saw something about the History of the Christmas Tree on SchoolhouseTeachers.com in their dailies section… specifically in the "Ditch the Desk" course. These are great, quick lessons that do not require much prep. All kinds of dailies are available… Daily Discoveries, Everyday Explorers, Daily Puzzles, Daily Grammar (which I really need to take advantage of), Everyday Games, and so much more!
SchoolhouseTeachers.com does require a membership to access the lessons and other benefits (like a downloadable AMAZING planner). The membership is a yearly fee of $139… or you can go month by month for $12.95 a month. The fee covers your entire family. You have full access to all the courses on the site.
BUT WAIT!!!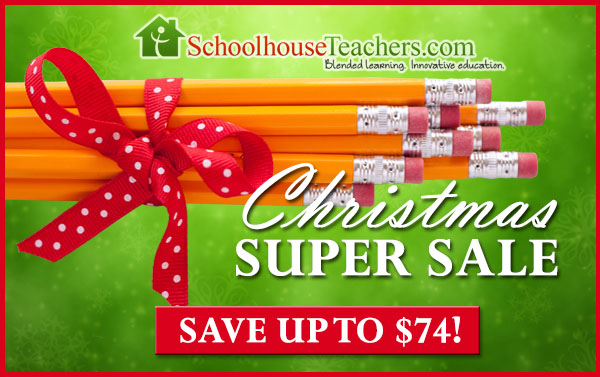 SchoolhouseTeachers.com is offering a Christmas Super Sale through Christmas Day. Get 40 % off a monthly membership. Just $7.77/ month OR save $74 on a YEARLY membership. That's right, you can sign up for a YEAR of SchoolhouseTeachers.com for only $64.26!!! Act now… the sale is only for a limited time.
I am trying to embrace the world of ebooks and online classes. I know that I am blogger and I create printables for my readers, but I'm not going to lie… I love hard copies of things. I love tangible school supplies and books. SchoolhouseTeachers.com is a great resource… I'm just going to have to get used to it and remember all the great stuff that is available!
Are you ready to learn more? Hop on over and read the FAQ section!
Be sure to check out what other members of the crew are saying about SchoolhouseTeachers.com:
Review: SchoolhouseTeachers.com Yearly Membership